Neostak
Public, private, dedicated or shared cloud, a multitude of solutions are available to companies to meet their IT requirements. It is to address all these needs that AntemetA has created NeoStak.
THE GUARANTEE OF A FULLY INTEGRATED, AUTOMATED, FLUID AND SOVEREIGN EXPERIENCE
What is NeoStak ?
NeoStak is the experience and industrialization of AntemetA and its partners (Hewlett Packard Enterprise, Dell Technology and many others), concentrated in an EDGE solution that allows you to benefit from all the advantages of the cloud as close as possible to your users and production tools. As a real-time solution, it provides automated and secure IaaS resources, ensuring a simple and reliable transition to DCIaas (Dedicated Cloud Infrastructure as a service).
NeoStak is a solution that combines :
Computing and Storage
Network
Filtering
Execution
Automation
On your sites, in your DataCenter or if needed in redundancy with us. All connected and managed from a central console accessible from anywhere and without the need for infrastructure deployment or in-depth knowledge.
NEOSTAK'S 6 FUNDAMENTAL PRINCIPLES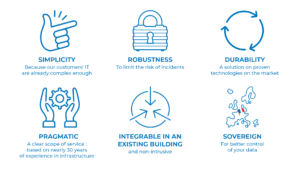 Additional services offered by AntemetA :
Secure My NeoStak :

A SOC/SIEM connection allowing for event traceability and data encryption thanks to our SOC.

Protect My NeoStak :

A complete protection of your data against cryptolockers in addition to our Back Up and Disaster Recovery offers.

Operate My NeoStak :

Delegate all your operations to us and allow your teams to focus on their core business.
In addition, AntemetA offers Ready to Use IaaS, equipment that is ready to use and delivered quickly allowing for specific integration and training of your teams to get the most out of NeoStak.
Presentation of the NeoStak offer by AntemetA